About
Hi! I'm Kelly.
I believe good communication solves problems and words have power.
Professionally, I'm a marketing & communications specialist for the University of Florida. For almost 10 years, I've worked in higher education to fill seats in top ranked graduate programs with exceptional, qualified students.
I'm organized, creative, and highly caffeinated. I love finding solutions to every day and unusual problems.
Outside of work? In normal times, you can find me reading a good book in a coffee shop, pretending to be a yogi at the gym, or daydreaming about my next adventure.
"I care. I care a lot. It's kinda my thing." -Leslie Knope
Resume
Overview
Content writing, copy editing, strategic communication, journey mapping, data analytics, CRM management, campaign reporting
MA, Mass Communication, University of Florida
BA, English, University of Akron
Salesforce Sales Cloud, Marketing Cloud, Pardot, Hubspot, Facebook, Instagram, Twitter, LinkedIn, Hootsuite, Google Ads, Adobe Indesign & Premiere Pro, WordPress
Work Samples
Email Tracking & Reporting Planning Videography
Email
Program Email Campaign: Online Graduate Program in Medication Therapy Management (MTM)
These are examples of comprehensive email campaigns I've written, built, and implemented for graduate programs. These campaigns nurture leads, convert leads to applicants, provide applicants with next steps, and encourage a dialogue.
New Lead Nurture
Automated drip campaign with evergreen content, starts immediately after a new lead submits a form opting into communication.
All Lead Nurture
Automated drip campaign sent to all MTM leads, restarts every application cycle after content is refreshed.
Application Deadline Promotion
Date-based manual sends to all MTM leads who have not completed applications.
Application Completion Nurture
After a lead completes step one of the application process, a confirmation email is sent with next steps. A week later, if the lead has not completed step two, they receive an automated, personalized email from the program director to address questions.
---
GMAT Boot Camp Event Promotion
To generate applications for selective events in two locations, these email campaigns segmented the lead audience by location, activity, and test scores. The CTA directed prospects to a custom landing page and form with automated completion actions.
---
UF MBA Application Deadline Push
Using a casual, approachable tone, this tactic was designed to push qualified prospective students closer to completing an application. Prospects were directed to a custom landing page and form with auto-response notifications. Within 24 hours of this email send, there were 89 form submissions.
Tracking & Reporting
UF MBA Campaigns
Designed to view the big picture or zoom in on details, these reports make it easy for the client to compare and evaluate the effectiveness of their recruitment events.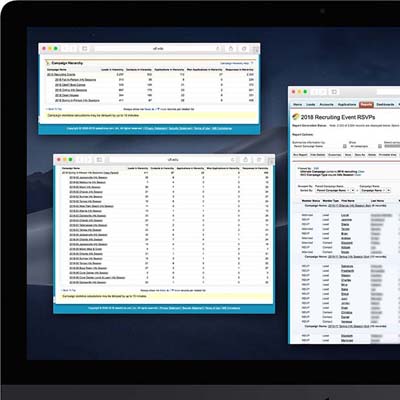 Planning
Marketing in Pharmacy Academia: Establishing the Marketing Function within a College
For my final project to complete my master's degree, I took a deep dive into the role of marketing within the College of Pharmacy. Based on my research and findings, I designed a streamlined, measurable process and communication plan to meet department needs.
Marketing Plan Example: Online Graduate Program in MTM
As part of a small team, I contribute to marketing plans for clients. In these plans, I analyze historical data, outline planned advertising and marketing tactics, and identify opportunities to increase enrollment numbers.
Videography
Embodying a Super Power
Conducting in Virtual Reality
This video was a group project where I served as the producer and lead editor.
30 Second Social Teaser
Full Length Video